Imbuing India - Painting our Historical Homeland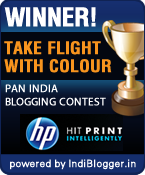 This post won The first runner-up Prize - HP Laserjet Printer worth 15000/- INR in the HP contest
Miranda House, Delhi University; Picture Clicked by: Anukriti Sharma
On a sunny day when the blistering summer heat diffuses into the air and torments the soul, a breath of cool air, sprinkle of fresh dew drops, and the first showers purge the heart with joy. I wish those raindrops were infused with multi-hued pigments... so that each coloured drop had a special meaning. I wish it had the power to paint our souls with happiness...Had life been more colourful, wouldn't our perspective about it change?
Noida-GIP Mall; Picture Clicked by: Anukriti Sharma
The world is like a naked canvas wherein each individual paints his/her inner vivacity. The chromatic confluence represents not only the choices we make but also the kind of life we want to lead.
Malabar Hills, Mumbai; Picture Clicked by:Anukriti Sharma
Memories embellish and enamel our essence and everyone has his/her own special meaning attached to it. Every passing second, every moment gone by, stacks itself on the shelf of past and builds up a library of memories. Whatever exists today is a reflection of that which once existed in an era gone-by. Like a mirror it reflects life... Old photographs, musty books, dilapidated monuments, ancient civilizations...each one of these remind us of the bygone days. Human beings have always been allured by memories...
Faculty of Arts, Delhi University; Picture Clicked by: Anukriti Sharma
Memories of what once existed as reality form motley of images in the mind. But when we take a sojourn down memory lane, why is it that our mind is filled with monochromatic images? The present surely does build itself upon the relics of the past... But why must past always be an amalgam of black and white images juxtaposed against the polychromatic present?
Lucknow, 1863; Source- www.oldindianphotos.in
When photography was introduced in India in 1840s, it wasn't that life was bland and colourless. Life was as picturesque as it is now but since technological development was less advanced, images were usually 'black and white'. With the advent of cinematics, an era of looking at reality in motion came into prominence. But, sadly that too remained monochromatic.When we look at old relics of India's beautiful culture and tradition: A woman dressed up in a gorgeous red sari appears clothed in dull grey; a lush green field in Kolkata in the 1870s appears to be dabbed in a morose background. Life then may seem insipid to us though it was as lively as it is now.
Bombay - The gateway to India - Source: Youtube
If I had an opportunity to see anything in colour, it would definitely be India of the past painted in the colours of present.
1920s-Indian Upper Class Couple; Source- www.oldindianphotos.in
Darjeeling Hill Train 1930s; Source- www.oldindianphotos.in














Imagine ancient Maharajas and Rajahs clad in jewels and finery; Rabindranath Tagore reclining on his Diwan; Indian revolutionaries and leaders like Shaheed Bhagat Singh, B.R.Ambedkar, Subhash Chandra Bose, Lal Bahadur Shastri, Mahatma Gandhi and Jawaharlal Nehru; the old newspapers, magazines and novels; men and women in traditional attires in 1900s; means of transport used during 1800s; people celebrating various festivals; monumnets and cities basking in the glory of past; or a rare video taken during India's Independence. Now imagine these images in colour. Doesn't it produce a spectacular effect in your mind?
Temple architecture -Trichy 1880s; Source- www.oldindianphotos.in








India is a country which exhibits a distinctive past. As Mark Twain described, "This is indeed India; the land of dreams and romance, of fabulous wealth and fabulous poverty--the country of a thousand nations and a hundred tongues, of a thousand religions and two million gods, cradle of the human race, birthplace of human speech, mother of history, grandmother of legend, great-grandmother of tradition, whose yesterdays bear date with the mouldering antiquities of the rest of the nations—the one sole country under the sun that is endowed with an imperishable interest for alien prince and alien peasant, for lettered and ignorant, wise and fool, rich and poor, bond and free, the one land that all men desire to see, and having seen once, by even a glimpse, would not give that glimpse for the shows of all the rest of the globe combined."— Following the Equator, 1897
Shimla - 1868; Source- www.oldindianphotos.in
Rabindranath Tagore; Source- www.oldindianphotos.in






Mark Twain's words are forever etched on the minds and hearts of people throughout the world. It is indeed 'The one land that all men desire to see'. It would indeed be unfortunate if we Indians remain paralyzed and cannot imagine our history flourish into colours...
Portrait of Dancing Girl; Source- www.oldindianphotos.in




Truly, the memories of past bring us closer to the realities of present. If I would like to see anything in colour it would definitely be India's past blossoming into multifarious colours. Black and white has its own appeal but colours bring us one step closer to the reality.
Mughals of Delhi ; Source- www.oldindianphotos.in
















When I imagine India, the birthplace of different religions and cultures, the motherland of many different tribes and traditions, all I wish is to see it in colour. From the past to present I wish to see my country in its true essence. I know past cannot be recreated nor can it be felt or experienced. But it can surely be rejuvenated... rejuvenated through pictures, through videos and paintings.
Indian Independence - Rare Video
; Source - Youtube
Woh kaale-safed rangon mein chipe chehre...
Maano koi daastaan sunaate hain.
Beete lamhon ki sej se utar kar humein,
Apni yaadein yaad dilaate hain...
India - Durga Puja celebrations in 1900s; Source- www.oldindianphotos.in
Rang-heen chehron mein qaid,
Kayi puraane khwaab chupe hain...
Inhe Zindagi ke rangon se bhar kar,
Aao chand lamhe aaj phir se jee lete hain...
Mahatma Gandhi and his followers; Source- www.oldindianphotos.in
This post has been written for HP Laserjet Take Flight With Colour Contest in association with http://www.Indiblogger.in Please click below to find out more :)
To enter the contest and promote this blogpost, Click on:
http://www.indiblogger.in/indipost.php?post=64104