Love Weds Arranged
This post won an Amazon Kindle 6" in the Indiblogger and Sony Entertainment Television 'Love Marriage or Arranged Marriage' Contest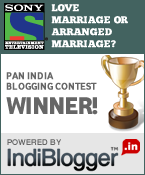 Life is a bagful of experiences, filled with the souvenirs of new beginnings. Marriage is one such new beginning filled with beautiful moments. It is in fact a voyage undertaken by two individuals. Through hope and happiness, smiles and laughter, love and affection, the two travel together, hand in hand through life's ups and downs.
The two travel together hand in hand
Over the past 25 years, my perception about marriage has changed tremendously. But over the years, I have also realized a lot of things. Till a certain age all of us are unaware of the realities of life. But the only truth is that life moves on - people change and so do our priorities. Marriage is a vital choice - it is indeed life's most important decision.
Shaadi ke laddu
I recently read an interesting article on turning 25 and how things change after that. One of the comments left a lasting impact on me.
This is how it read:
'Here's the thing about 25. Do not marry anyone for any reason other than the right ones...Your spouse is the most important choice you can make in your life. Careers come and go, and passions wax and wane, but a spouse can be the number one determining factor in your happiness. Life is too short to be miserable, there's too much crap in the world for you to ever have to deal with it at home. Pick a spouse that (cliche alert!) completes you. Pick a spouse that supports you. Pick a spouse whose nose you can pick.'
Funny but true, isn't it? Life is already full of problems. So why would anyone want to come back home to deal with more? I know picking a spouse whose nose you can pick is a little tricky, but it shouldn't really matter if you actually love the person. It's all about affection.
Your spouse is the most important choice you can make in life
I see a lot of couples around me, who want to get married just because they have to. Many opt love marriage because they think their girlfriend/boyfriend is the most beautiful/handsome person in the world. Many others go for arranged marriage because they think their life would be ruined if they do not heed their
parents' advice. I fail to understand such people. They are still shrouded in the darkness of ignorance and immaturity.
Let their be light
Love marriage or arranged marriage is not really important since both have their pros and cons. What is important is life-long companionship and undying affection. Marriage is a not about hanging around and having fun. Nor is it something that must be done under pressure. Marriage comes with a lot of responsibility. Acceptance, love, forgiveness, patience, affection, and mutual understanding can actually make a marriage successful.
Marriage means acceptance, love, and mutual understanding
Before you take a step ahead, pause for a moment and ask yourself, is this what I want to do? Am I getting married under any kind of pressure? Is this the person I truly love? Your fate is in your hands. Nobody is going to decide what you want in life. You need to be sure of your decision. Love marriage or arranged marriage, as long as you are happy and satisfied, nothing else really matters.
Your fate is in your hands
Do not take any decision in haste. If arranged marriage is your choice, do think about your preferences too. Do not go for it blindly or without thinking. On the other hand if love marriage is your choice, take the first step and talk to your parents about it. They might have numerous issues, they might not even agree, but if you really want something, talk it out and make it happen.
Take the first step
If you have found your true love and want to marry that person, handle the situation wisely.
Conversation is essential. Talk to your family. Be frank and express your feelings. If you are 100% sure, try convincing them. A decision once taken cannot be undone, so think twice before choosing your life-partner. That person should be someone who respects you and your individuality. Someone who loves you the way you are.
Handle the situation wisely
And if you have decided to go for an arranged marriage and are getting married as per your family's choice, do not rush into things. This life is yours. Your parents can only be happy if you are happy. Have faith in yourself and your parents' decision. Look at the pros and cons. Do not hesitate to talk to your to-be-spouse.
Look at the pros and cons
Marry someone who you would want to grow old with. Someone whose happiness will mean the world to you.
Whose wrinkles would never deter you from kissing her goodnight. Whose sagging body will never affect you from loving him. Whose pain will hurt you as much as your own. Whose happiness will fill you with joy. A married couple should not only support one another through thick and thin, but also learn to appreciate each other's choices.
Someone who loves you the way you are
A perfect marriage would be one where differences would never matter. Where love and arranged would marry one another in perfect harmony. Love shall be arranged, and the arrangement shall be loved. Here's a beautiful video that describes a perfect marriage proposal:
This post has been written for Indiblogger and Sony Entertainment Television's contest Love Marriage Or Arranged Marriage?
To participate and know more about the TV show, click on the picture below:
To see my post and vote for it click on the picture below: